Friday, July 18, 2014 / by Joshua Roueche
July 17, 2014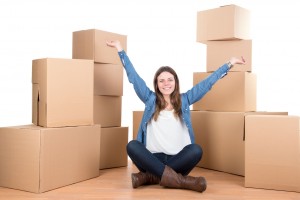 5 Things College Graduates Should Know When Buying a Home
According to a Gallup poll, 14% of all Americans between the ages of 24-34 are living with their parents. Quite a few of these people are college graduates, and the challenges of the job market and student loans have kept them from leaving the nest. It may be more difficult for college graduates to buy a home now than in generations past, but homeownership remains within reach of most Americans—young and old. If you're a millennial looking to buy a home, you should know these five things to guide your decision.
1. Buying a Home Is an Investment; Renting Is Not.
Aside from a few savings bonds their grandparents gave them as babies, most recent college graduates don't have a lot of investments. When you're only a few years out of college, most of your money goes to necessities. What's left generally goes toward an occasional weekend trip or new computer. Mutual funds are something to worry about later.
But you can invest now—and you should. Buying a home is one of the simplest and most practical investments college graduates can make. It builds equity and, if you've purchased a good property in a good neighborhood, value over time. Better yet, a home is an investment you'll use. The money spent on rent will never accrue anything, but even if you're decades away from an investment portfolio, you can start with home ownership.
2. The Recovery Made the Housing Market Safer.
Many millennials came of age during the Great Recession, and many college graduates watched family members struggle as home values plummeted in certain markets. For a few years, home ownership seemed like a tremendous risk, but the recovery didn't just stabilize and strengthen the housing market. It made buying a home safer. In 2008 the U.S. Department of Housing and Urban Development passed the SAFE Act to prevent fraudulent lenders. Today's mortgage lenders are held to a high standard to educate borrowers and offer the best loan programs. These safeguards have resulted in fewer people buying homes beyond their means, which has led to fewer foreclosures and a safer, more stable housing market.
3. A Home Can—and Should—Be within Your Means.
Unless you're living in Manhattan, even recent college graduates can find homes within their means (and even young New Yorkers can find affordable homes within a half-hour commute of the city). Townhomes, condos, and smaller single-family homes allow an array of affordable options for first time homebuyers. Buying a home with multiple bedrooms, too, allows you the option to find renters, who can supplement (or fully cover) your monthly mortgage payments.
When you're looking for a home to buy, though, you need to make sure you can afford the monthly mortgage payments and associated costs, like private mortgage insurance and maintenance. Our mortgage partners can give you an idea of how much you'll be paying at various price points. You should consult this before you begin looking at homes to avoid becoming attached to something you can't afford. As long as you have reasonable expectations as a first time homebuyer, you can find a great starter home that will prepare you for a life of homeownership.
4. Don't Be Afraid to Ask for Help.
The down payment tends to be the most intimidating aspect of buying a home, but it's manageable, even for college graduates. Whether you're living at home or with roommates, if you have a stable source of income you can budget to set money aside, every month, to build up enough for the minimum 5% down payment. You can also ask your parents or grandparents for help. Many aging relatives plan to leave money with grandchildren anyway, and most would rather see the inheritance go to good use in their lifetimes. Don't be afraid to ask for help with the down payment—or with a signature on the loan. If you have a high debt-to-income ratio, your parents can co-sign with you. Of course, that means accepting some risk. But if you're living at home, they'll likely be happy to help you get on your feet as a homeowner.
5. The Time to Buy Is Usually Now.
Just a few months ago, mortgage rates dipped below 4.0%. They've increased slightly since, but they remain lower than expected—and much lower than rates have historically been. With home values rising in nearly every market across America, now is the best time to buy a home, since prices and mortgage rates will only continue to climb. It may seem like a wise idea to wait a few years until you're more financially prepared to buy your first home, but the longer you wait, the more you'll pay in the long run.
If you're a recent college graduate who's considering homeownership, talk with one of our experienced mortgage professionals. They would love to sit down and discuss a game plan or any mortgage questions you have. We look forward to hearing from you!